Chatbots are set to revolutionize the way businesses communicate with their clientele and the public in general. The billion-dollar question: how will these new chatbots change our world?
Chatbots are no longer merely a fad or a novelty; they are gradually becoming an indispensable tool in the modern workplace. Businesses must explore how they might leverage chatbot technology to get an advantage over the competition as chatbots grow more common and artificial intelligence progresses.
During the past few years, chatbots have become increasingly popular around the globe. Due to advancements in artificial intelligence and natural language processing, chatbots can now respond to human users with tailored and contextually specific responses. As the capabilities of chatbots grow, many organizations are beginning to wonder how they can benefit their business.
The adoption of chatbots by businesses has been influenced greatly by the rapid advancement of technology and the necessity for organizations to focus on real-time customer service and engagement. As chatbot trends gain traction, a variety of industries are using chatbot platforms to automate repetitive corporate operations, improve services, and improve customer satisfaction.
Bot deployments will grow dramatically in 2022. The most common use case for a chatbot will be to provide fast customer service. Business KPIs such as average resolution times and first contact resolution can be improved by implementing a bot platform.
We can expect to see the following frequent uses implemented this year: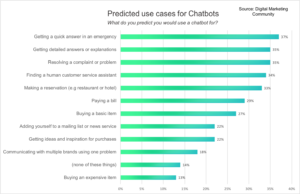 In addition to these developments, the chatbot industry is expected to see:
Statistic and future perspectives on chatbots and voicebots in 2022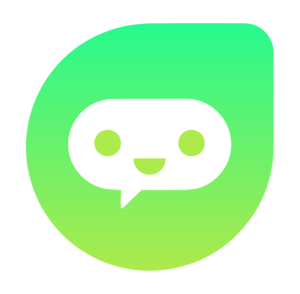 The bot ecosystem is rapidly expanding despite the relatively robust ecosystem that currently exists. Companies from Fortune 500 to startups are applying the benefits of bots to gain speed and efficiency.
But what can we expect in the future? Consider these trends:
Bots becoming more intelligent. Bots will be able to hold more complicated conversations, not simply transactional ones, as artificial intelligence progresses. This implies they'll be able to answer non-standard inquiries and account for linguistic nuances like humor and irony.
Bots will take on more complex tasks. The ability of a bot to perform more complicated tasks than simple transaction processing or customer service interactions will grow as AI advances. Without requiring user involvement, a bot may soon schedule vacation or pay bills on your behalf.
The use of bots will become more mainstream. Consumers are still hesitant to deal with a bot when contacting a company. Consumer acceptance of bots as commonplace tools to facilitate both personal and business interactions will grow as AI improves.
Chatbots will integrate better with humans. "The global size of the chatbot market is anticipated to hit $1.3 billion by 2024," according to Global Market Insights. As a result, the chatbot sector will inevitably become the motor of commercial communications.
Having a bot on board is likely the next logical step for many of today's digital companies. With AI technology improving daily, the intelligence and capabilities of bots will only become more sophisticated and useful. Companies may soon have a true digital agent that understands which information is vital, who a customer wants to speak to, and how long they've been waiting. That's powerful engagement—and it makes perfect sense.
Part II of this article can be found here.