When a large organization specializing in information technology, needed to hire 500 employees in less than a month, it was clear that the company's Human Resources department would need to find a way to automate its hiring processes.
With only three people available to handle the task of sorting through thousands of CVs and corresponding with applicants, the team needed a solution that could help them more efficiently manage their resources.
Given the extremely limited amount of time for hiring, and the large number of hires needed, the company understood that it would not be able to process all of the CVs internally. The company considered alternative options but decided against outsourcing, as it was not a viable option due to its financial implications.
They needed a solution that would improve resource allocation and screen CVs in an efficient and cost-effective manner.
After considering several options, the company decided to work with Alloxentric's platform to create bots that use components of their platform to automate management of its Human Resources department.
Alloxentric developed two bots, one for the web and one for WhatsApp, for the purposes of receiving and validating applicant background information.
The bots would be responsible for the following tasks:
missing information from the CV and the qualifications of applicants.
candidates' frequently asked questions about the selection process.
candidates and set up interviews according to Human Resource executives' agendas.
As part of a virtual pre-interview process, bots collect information about the position applicants are applying for, review their CVs, and ask a variety of questions that have to do with assessing their qualifications and providing information about the position or company that they are applying for. Upon determining that a candidate matches the expected profile, the bot would refer them to an HR representative for an interview either immediately or at a later time.
Through the implementation of the automated process, incoming CVs were received, validated, and interviews scheduled more efficiently. A significant increase in recruitment efficiency and faster hiring resulted from reducing the time spent on screening. The HR department could devote more time to those candidates who met the criteria, leading to a 8,000% faster hiring process than traditional methods.
Moreover, the entire department was able to reduce its validation time by 35% by implementing the bot solutions that helped streamline the workflow.
After obtaining excellent results, Alloxentric's bot solution was subsequently integrated as part of the Human Resource department to handle repetitive tasks, allowing the department's personnel to focus on more important tasks such as job evaluative and psychometric testing.
8,000% improvement in process efficiency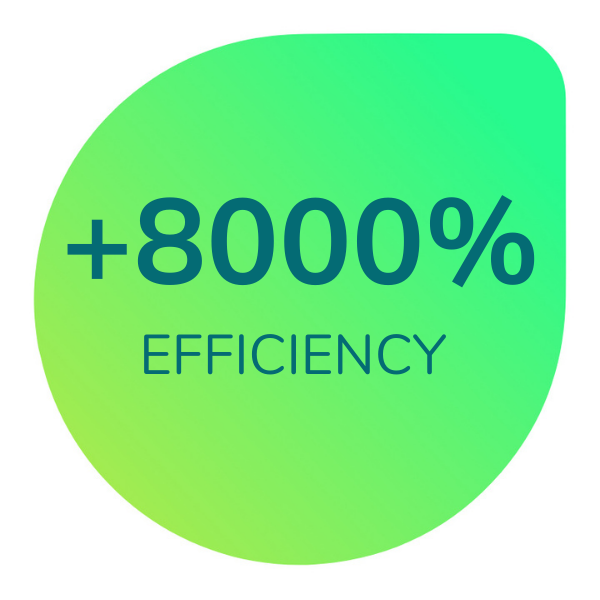 50% of employee hours saved by using bots for repetitive tasks